INNOVATION
Good Food Makers 2023: here are the winning startups of the food innovators program
19 October 2023
Barilla and Plug and Play, the world's biggest Open Innovation platform, today announce the four winning projects of the global Good Food Makers program for Ag-tech and Food-tech start-ups working for a sustainable future in food: Waybetter for the digital and wellness sector, Bocoloco for the circular packaging section, Nosh for clean label solutions related to fermentation and Dori to improve the quality of logistics with AI solutions.
Good Food Makers is a global open innovation program for Ag-tech and Food-tech startups. Thanks to Plug and Play's know-how in the start-up scouting and selection process, Barilla is working with companies that, with their ideas, will contribute to shaping a more sustainable food future. Now in its fifth year, Good Food Makers has so far involved over 700 start-ups which, thanks to Barilla, have had the opportunity to deal with a global food leader, with interests all over the world but with its heart and brain in Parma, at the center of the Italian Food Valley. Their collaboration has helped innovative ideas to grow and develop into more structured entrepreneurial projects.
The innovative ideas sought for 2023 were focused on 4 areas:
Circular packaging: French company Bocoloco had the most solutions and business models for reducing and reusing packaging and related waste, with a project based on returnable glass packaging, traceable by QRcode.
Quality of logistics: US company Dori had the most interesting digital solutions to improve the quality of logistics, using Artificial Intelligence for tracing and monitoring suppliers.
Fermentation for clean label: German startup Nosh has focused on the fermentation of biomass to increase the nutritional, sensory and environmental value of functional ingredients of natural origin that could be used in various food products.
You @ Best: another American start-up, Waybetter, has created a digital platform to promote healthy lifestyles and eating habits in an engaging way using games and prizes.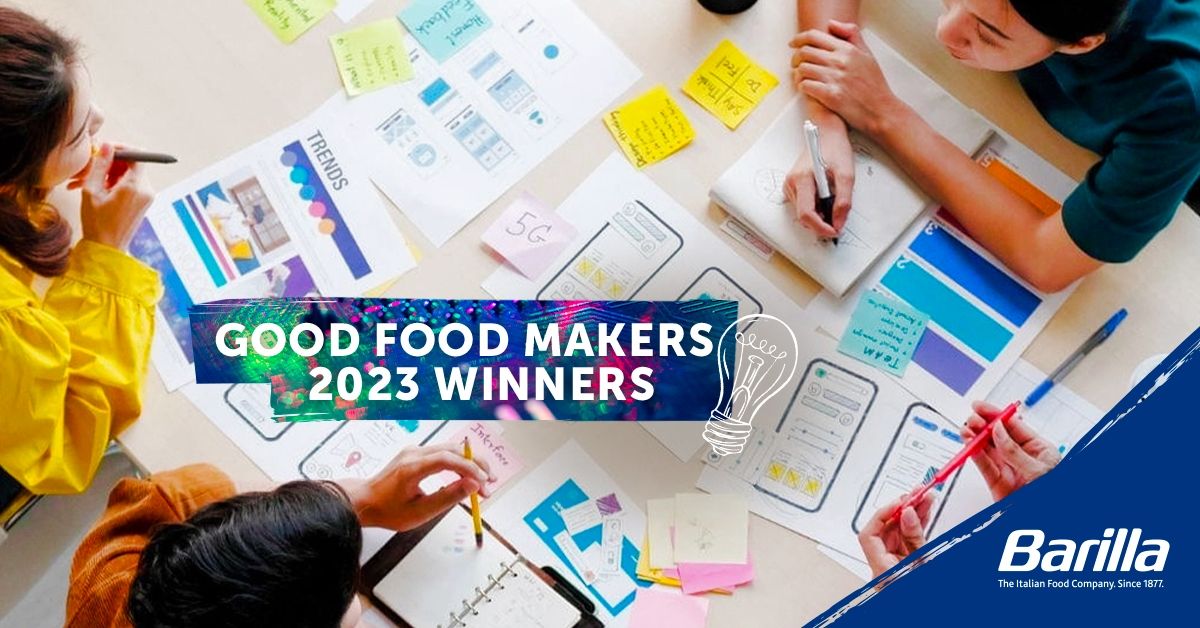 Between May 22 and July 7, the closing date for entries, we were in contact with over 100 companies from more than 25 countries. The Good Food Makers winners will be able to take advantage of an eight-week program, during which they will work side by side with Barilla's managers to develop and test new ideas together, thanks to the vision of a company that has been committed to producing good and quality food for 145 years.
To help them undertake this shared growth path, the 4 selected startups will receive €10,000 of support for the project to be implemented during the acceleration program, and the opportunity to build future collaborations with the Barilla Group. As has already been the case recently with Connecting Food, a FoodTech company committed to certifying the authenticity of foods, which won a Good Food Makers award in 2020 and created the blockchain-based traceability system for basil used for Pesto Barilla and accessible to all Italian consumers via a QR code on the label. For further information about the program, visit the official website.
"Good Food Makers perfectly interprets the Barilla Group's mission: "the joy of food for a better world". And that is to offer people the joy that good, well-made food can bring them, prepared with selected ingredients from responsible supply chains, to contribute to a better present and future. With Good Food Makers we want to remain at the forefront of food innovation. And be open to discussions with innovative companies that, like us, are keen to understand how consumers are evolving and to identify their new needs. The partnership with Plug And Play has allowed us to broaden our vision of the future, allowing us to discover and reward Bocoloco, Waybetter, Nosh and Dori", says Claudia Berti, Barilla Head of Global Open Innovation & IPR.
"For the second year running, Plug and Play is a partner of the Good Food Makers project, an important initiative for the Foodtech sector and a perfect example of success in Open Innovation. This year we took a more efficient and targeted approach to selection, involving strategic activities with start-ups prior to receiving their entries, including research, evaluation and meeting stages. Guided by the experience and specific requirements identified by Barilla managers actively involved in the challenges, the platform is able to support the company throughout the start-up evaluation and selection phase, making it easier to understand and take advantage of new technologies to fulfill actual needs", says Pietro Villani, Plug and Play Partner Success.
Latest Press Releases
10 October 2023

BARILLA GROUP
Barilla Group remains close to its people: 12 weeks minimum for all parents starting January 1st 2024
Barilla's new global policy offers permanent employees a minimum of 12 weeks paid parental leave both for birth parents and adoptive parents.
26 June 2023

SUSTAINABILITY
2022 Sustainability Report Barilla: more sustainable supply chains together with 9,000 farms, commitment to renewable energy and 100% recyclable packaging, continued support for local communities
Sustainable supply chains, consistent reductions in emissions and water consumption, new investment of €1 billion and tangible support for communities
6 June 2023

BARILLA GROUP
Flooding, Barilla Group's support for Emilia-Romagna: 1 million euros to rebuild sports centres for children and young people in the Ravenna area
Barilla is funding reconstruction in Conselice and Sant'Agata sul Santerno, with a donation of 1 million euros to the Civil Defense Authority.