Cooking with Cheffe Chiara Pavan
Since 2017, Chiara Pavan has led, together with Francesco Brutto, the Venissa restaurant on the island of Mazzorbo, Venice. In recent years, her awards include Best Female Chef for the l'Espresso Guidein 2019 and Identità Golose 2020.
Chiara promotes a type of cuisine that she defines as 'environmental' centred on homegrown vegetable ingredients, local sourcing, the use of wild herbs, grains and ancient legumes, and the useof small amounts of ethically chosen animal protein in favour of vegetable protein.
Thanks to her interest in the environmentand her connection with the Venice Lagoon, where the intention is to leave as light a footprint on the land as possible,she was awarded the Michelin Green Starfor environmental sustainability in the kitchen in 2021.
Discover the recipes

Cheffe Chiara Pavan
I like to define my cuisine as "environmental", a cuisine that takes care of this very fragile environment which has been affected by climate change in recent years.
Discover the sustainable recipes created for you by Chiara Pavan
RECIPE #1
Mezzi Rigatoni Barilla Al Bronzo, Pea Pods and Mint
A zero-waste recipe, in which even the pods are not wasted, but creatively reused in the recipe itself.
Reduce the environmental impact by cooking pasta with the Passive Cooking method.
English
Italian
Deutsch
French
Greek
Portuguese
Russian
Spanish
Swedish
Turkish
RECIPE #2
Fusilloni Barilla Al Bronzo Mussels and Chickpeas
Stale bread becomes the special ingredient to add a touch of flavor to the recipe.
RECIPE #3
Linguine Barilla Al Bronzo with "Whole Aubergine"
The aubergines are the protagonists of this recipe which involves using the pulp, the peel and even the water.
RECIPE #4
Spaghetti Quadrati Barilla Al Bronzo, Blue Crab And Baked Cherry Tomatoes
The blue crab: a less known crustacean, but present in large quantities in our seas. A delicious ingredient for a refined touch.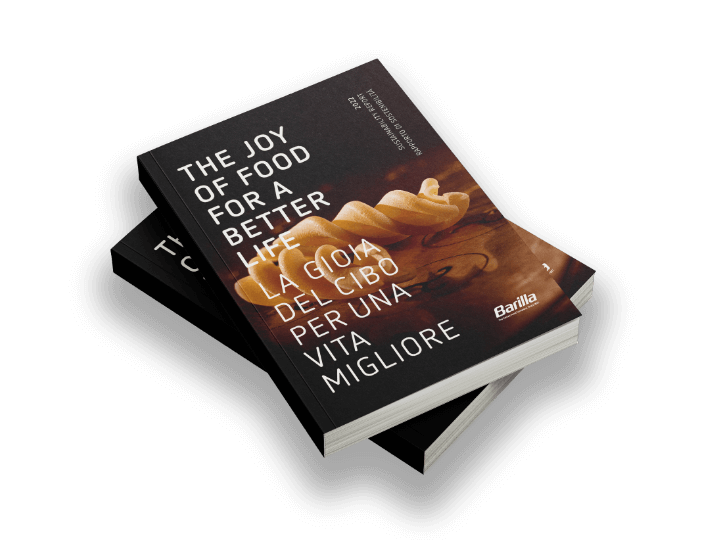 Discover the latest results of our commitment in our 2022 Sustainability Report
Find out more